Centtrip celebrated by BDO in its 2023 International Women's Day campaign #EmbraceEquity
Jane Turner, Centtrip's CEO, appears in BDO's #EmbraceEquity campaign as an inspirational champion of equity in the workplace.
Happy International Women's Day!
Hot on the heels of Centtrip's listing in J.P. Morgan's Top 200 Female-Powered Businesses,  we are delighted that our CEO, Jane Turner, is one of 28 champions of equity listed in BDO's 2023 #EmbraceEquity campaign.
"Equity is about levelling the playing field for women to have the same access as men, which often requires different ways of thinking, challenging the status quo and role modelling what equity really means," says Sasha Molodtsov, Client Engagement and Markets Director in BDO UK's Financial Services team. The 28 nominees have done exactly that.
Since joining Centtrip, Jane has championed diversity and gender equity within the business. Today – in an industry where men typically outnumber women by two to one – Centtrip's overall workforce and its senior leadership team both boast gender parity.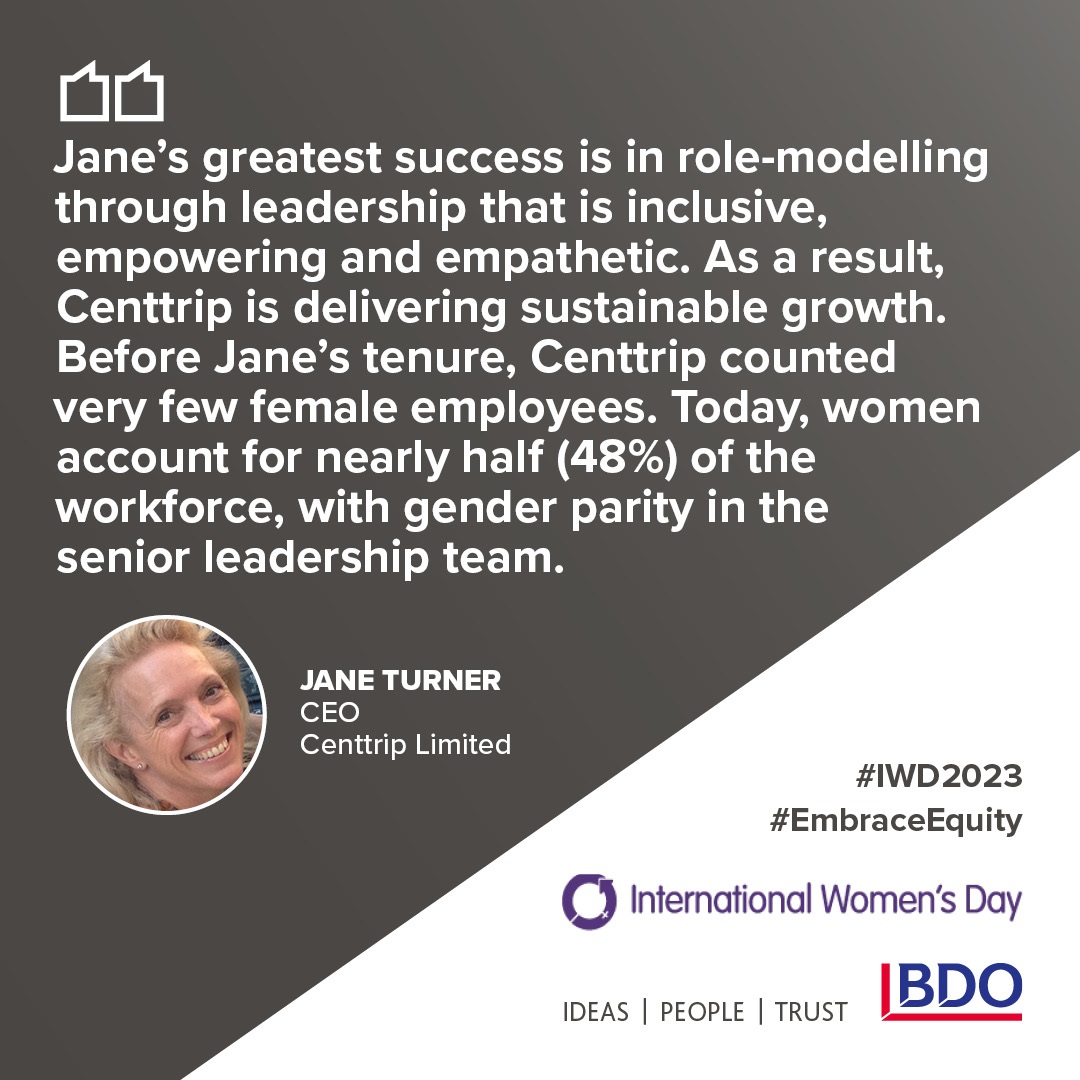 More than that, Jane is recognised as a role-model for a strategic and considered approach to leadership that is inclusive, empowering, empathetic and humane. She encourages a nurturing, mentoring culture within Centtrip that ensures all colleagues are supported during change and growth.  As a result, Centtrip is delivering sustainable growth for the long term benefit of clients, shareholders and staff.  
As Centtrip celebrates its 10th anniversary with record results, we're delighted by this recognition on such an important topic.
You can read more about this year's International Women's Day, #EmbraceEquity, here
You can read about our 10th anniversary here
Centtrip. Celebrating 10 years on tour, on board and on your side.