How Centtrip supports Sarnia Yachts to deliver world class operations
"Using Centtrip as an operational account, instead of a bank, provides greater flexibility and it's cheaper for the client."
Download the full Centtrip Story to read more from Lee about his experience with Centtrip.
Founded in 1971, Sarnia Yachts is one of the most established businesses in the yacht sector. It provides a unique set of services tailored specifically for the needs of the largest, privately operated and commercial, superyachts.
Sarnia Yachts chose Centtrip to help deliver its world-class operations. We caught up with Chief Operating Officer Lee Madgewick to learn more about Sarnia Yacht's business and why it selected Centtrip.
Lee, what sets Sarnia Yachts apart from other businesses?
Sarnia Yachts is quite unique in the breadth of services it offers. We provide services to over 100 yachts, from 24 metres up to the very largest, and increasingly we're providing full-service partnerships where we wrap around our yacht ownership, yacht management and crew management services to a vessel. It's a growing part of our business.
What first attracted you to Centtrip?
We first encountered Centtrip when yachts coming under our management already used Centtrip cards. Centtrip's prepaid Mastercard gives owners greater control over yacht expenses.
I started working with Centtrip because I knew them as a banking partner. Centtrip is a regulated business and our corporate ownership arm, Sarnia Yachts Limited, is regulated in Guernsey as a licensed fiduciary business. Working with another regulated business gives us mutual confidence in dealing with each other.
Aside from business confidence, what capabilities does Centtrip provide for Sarnia Yachts?
Sarnia Yachts often operates at a level up from other, unregulated, yacht management businesses, because we prepare the financial statements for incorporated, yacht-owning companies. Having payments all in one place is much better for the client.
Using Centtrip as an operational account, instead of a bank, provides greater flexibility and it's cheaper for the client. We can pay supplier invoices and payroll from the account and transfer funds instantly to cards for the captain and crew.
How does Centtrip help with card payments and expense management?
The Centtrip app is really light-touch and makes it easy to reconcile card expenses. In the superyacht world, this kind of simple-to-use technology is not very widespread. Historically captains would have two to three weeks' worth of receipts waiting for a spare couple of hours to punch them all into a spreadsheet. But with Centtrip expense management, we upload all our expense categories, cardholders can scan receipts as they go along, and we can see what's being spent in real time.
No matter where you are, you can spend your money. We still need cash occasionally and Centtrip's card enables ATM withdrawals so that chefs can buy supplies from the local market, and we still have visibility and control. That's really important for a regulated business and we have the ability to monitor, limit and control cash withdrawals real-time.
Do you think Centtrip makes it easier for Sarnia Yachts to support its clients?
Centtrip does a great job for us which ultimately means a great service for our clients. The Centtrip team is really easy to deal with and they respond very quickly, whether it's a simple question or sending new cards to a crew on the other side of the world.
Lee, thank you for your time.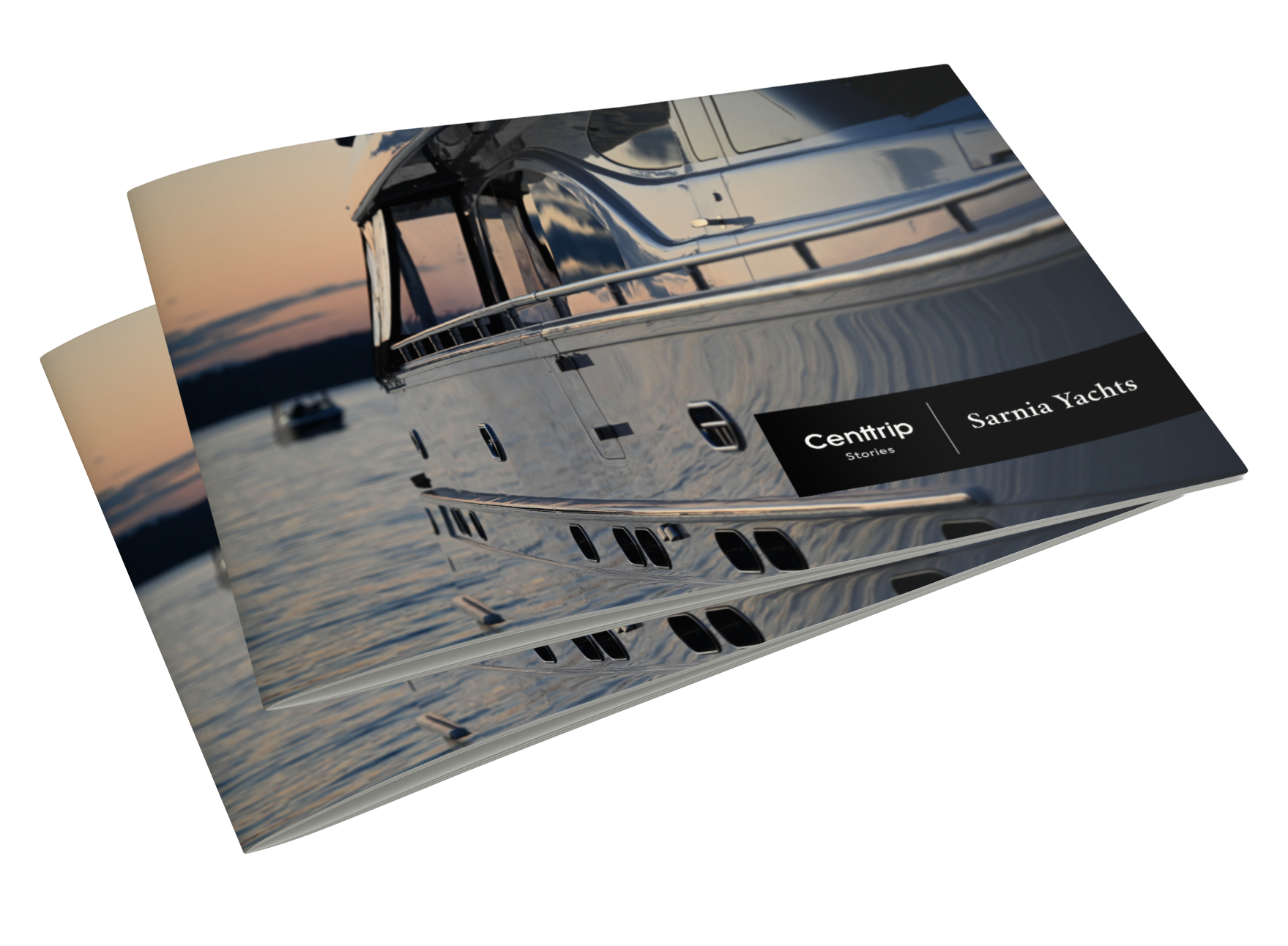 Download your free copy, now
To read the full Centtrip Story with Lee, please download the pdf by filling out the short form below.
We also spoke with Sarnia Yachts' director Bruce Maltwood. You can read his perspective, here.